Welcome to the Hanzi-Trainer!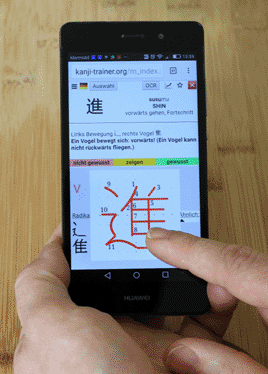 Learn Hanzi with mnemonic phrases!
Learn Chinese Hanzi by drawing with your finger at your smart phone!

The components of every character are explained and a memory phrase is proposed.


To the Hanzi-Trainer:


These are the main functions of the Hanzi Trainer:
Training of reading and writing the Hanzi
Mnemonic phrases for each character
Targeted repetition of unlearned characters
Detailed statistic diagrams of your learning success
4000 Hanzi
Training modes for radical training
Your learning progress is permanently saved.